Coloring Collagen's HYBRID Kyushu Chazuke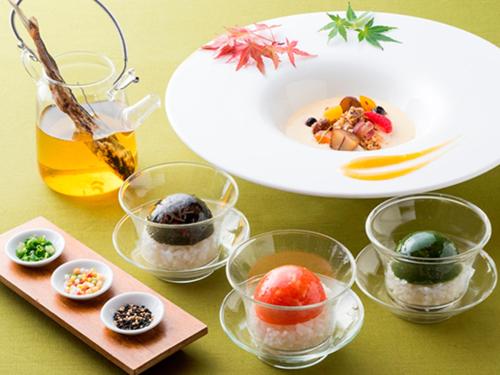 Coloring Collagen's HYBRID Kyushu Chazuke(Chazuke = Rice with Soup Stock)
With 5 key words "Beautiful, New, Delicious, Fun, Healthy" for Chazuke, you can see the colorful Japanese breakfast with rich nutrition to start your day!

The morning rice cooked by the pastry chess adds appetite with the beauty of the appearance, and also charges the necessary nutrition even those who can not afford in the morning time, and stuck to ingenuity to enjoy the ingredients of Made in Kyushu in addition!
Kyushu · Okinawa Menu
Kyushu · Okinawa Menu of commitment that all the specialties of the prefecture can be tasted!

The girls who like vegetables explosive popularity of the reviews has become a breakfast buffet where you can taste the specialties of the eight prefectures in Kyushu and Okinawa.
Miyazaki: Hinata chicken with tomato stew
Fukuoka: Bokconcini of the mentaiko of the season fish
Kumamoto: Nodame and bamboo shoots
Okinawa: Tamana Champlle
Saga: Soup of Kure Tofu and Spinach
Nagasaki: boiled beef stew
Oita: simmered boiled rice
Kagoshima: Satsuma fried eggs
We stuck to the materials and taste of Kyushu and Okinawa.

? Buffet menu can be enjoyed many times with monthly fee plan. Please contact us if you need more information.
Seasonal Taste - You Can Enjoy Pleasantly Every Season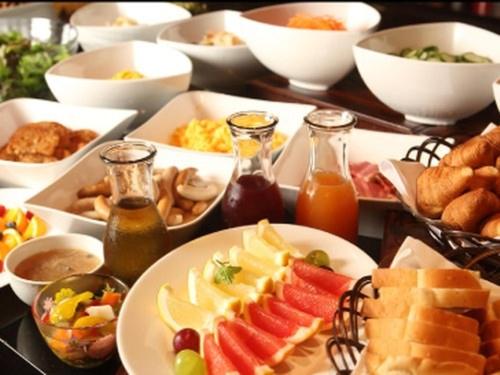 60 seasonal tastes that can not be eaten at all.

Cooking with selected ingredients is healthy and outstanding balance of taste. Various rich bread and fresh juice are also substantial, and 60 items of that number. A busy businessman, a couple or a family, it is a breakfast buffet that supports health making with an extensive breakfast menu.

Cooking content sticking to fresh ingredients is a menu composition that you can enjoy as many as you want on a monthly basis. You can enjoy cuisine made from materials of Kyushu and Okinawa every season!